Beautiful Baby Boy
Matthew Rae was a beautiful baby boy, he had the most perfect hands with long slender fingers. Matthew looked so much like Sami and later Alyssa would look so much like him. He had the pointy King chin like Papie, dark curly hair like his Daddy and later Alyssa too. He was very long for his tiny size. I'll never know the color of his eyes, something tells me they are between a Green & Brown. Matthew may have never met some of our family and friends, but, still managed to touch so many lives in his short time here with us.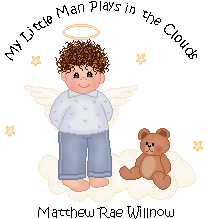 Matthew Rae Willnow Obituary

ADRIAN: MATTHEW RAE WILLNOW, the RAE of sunshine of James Matthew and Heather Rae (King) Willnow was stillborn at Bixby Medical Center on February 1, 2001.
Surviving Matthew, in addition to his parents, is a sister, Samantha, at home, his grandparents, Melvin and Mary Willnow of Palmyra and Lee and Pat King of Jerome, a great-grandmother, Ethel Collyer of Adrian, his aunts and uncles; Tony and Dan Willnow of Palmyra, Robert and Roxanne (DeLong) Willnow of Adrian, Rob and Andrea (King) Hall of Brooklyn, Mike and Ginger (King) Auten of Milan and Frank and Marnie (King) Espinoza of Adrian, a great aunt, Phyllis Weiss of Fayette, OH, and his cousins; Kendra Willnow, Frankie and Tayla Espinoza, Chelsea Hall and Tori Auten.
Cremation has taken place. A graveside service with burial of cremains, under the direction of Anderson Funeral Home will be held at St. Mary's Cemetery in Adrian, next to his great-grandfather, Clifford Collyer, on Monday, February 5, 2001, at 3:30 p.m. with pastor Tom McMichael of Gateway Community Church officiating. Memorial contributions may be made to the Family of Matthew Willnow. Envelopes are available at Anderson Funeral Home.
Matthew's resting place with Great Grandpa Collyer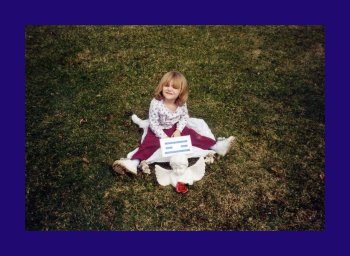 Sami and her brother Matthew, the only Pic I have of them both!!
Matthews Tree Planted the summer of 2001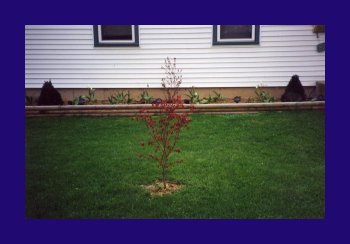 When we moved in 2003 we took it with us and it didn't make the move
Our Pond we redid in 2005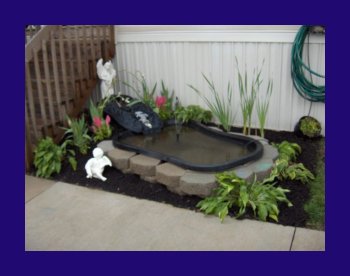 In Memoery of our 3 Angels in Heaven