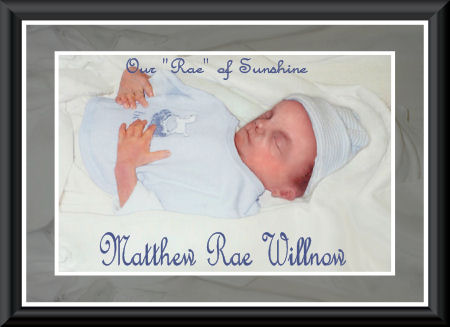 Our Journey began in May of 1997. After a couple of years of trying to have a baby we were overjoyed to find out we were pregnant. Our joy was short lived as we miscarried in our 6th week. By Oct of that same year we were once again pregnant. On August 19th, 1998 we gave birth to a healthy baby girl Samantha Alexis (Sami). My husband and I had always wanted to have 2 children, but, we were a little surprised come October of 1999 that we were once again pregnant. Everything seemed to be normal through out the first trimester with the pregnancy. Come Dec. I was very ill with Asthmatic Bronchitis and was taken off work for over 6 weeks and on lots of different medications. By Feb 1st I was feeling better and back to work. Feb. 11th I returned home from work and noticed I had some unexpected bleeding. I was in my 18th week of pregnancy, and figured we are out of danger. We were wrong and had once again lost another child. When I was young all I ever wanted was to have a family of my own. We'll never know for sure what happened and why I had either miscarriage. Giving up on having anymore children was never an option for me. I knew in my heart that we were meant to have another baby. By July of 2000, and with my Drs. Approval we were once again, you guessed it, Pregnant. We didn't tell too many people right away this time due to our history. The pregnancy was considered High Risk with no complications. Sami was now 2 1/2 years old and become very ill in the last week of January 2001. I was off work for over 5 days to care for Sami. By January 31st I was getting ready for my first day back to work when it hit me that I hadn't felt any movement for a few days. Since I was in my 34th week, I figured the baby was big enough that he was running out of room to move too much, and I was so concerned with Sami that I had overlooked the movements while they were happening. I had a routine appointment that night; my Dr examined me as normal and sent me for a non-stress test to make sure everything was alright with the lack of movement. The nurses at the hospital were unable to find the baby's heart beat, so I was sent back to my Drs Office for an ultrasound. My Dr went through the ultrasound as he always had before, with one change when he got to the heart, it was not moving. My husband and I were devastated, could this really be happening again to us? We were sent back to the hospital were I was induced and over 24 hours later gave birth to a Beautiful baby boy. We named him Matthew Rae, after my husband and my middle names. Our Dr. came in to explain to us what had happened to our Son. He was a very active baby and moved in one direction and never reversed it, causing the umbilical cord to wrap up into knots cutting off all oxygen to Matthew. With the help of family and friends we planned our little "Rae" of sunshine's funeral. Everyone was very supportive, and still is to this day. We made it through with the Lord's help, in Oct. 2002, after a totally wild pregnancy we gave birth to a healthy baby girl Alyssa Nicole. Complications in the delivery almost took my life this time; this is when I knew we were done. From 1997-2002, God had given us 5 little miracles, 3 in heaven and 2 here on earth.
Graphic from Angel Jennas Mommy Lorri Caffrey
I can only imagine Matthew looking like this Angel!!