Our wedding party worked out perfect Jim has 3 Brothers Tony, Rob, and Dan and I have 3 sisters Andrea(Onnie), Ginger, and Marnie. We had them all walk together. We had more of a struggle picking Best Man and Maid of Honor so we each had 2 Dave and Shelly/Jason and Danielle. Jennifer is my Childhood friend since I was about 3 and now is my neighbor, and her escort Dan, well he was the clown of the bunch and a longtime friend of Jims. Our Ushers were My Brother in law Mike and Jims Cousin Terry, Jims friend Kevin, and Mutual friend Derek. Our Mini Groom was my Loveable Nephew Frankie (wow he will be 16 soon). Mini Bride (Not Pictured) Was my niece Tayla, (she was sick with Asthma, she is now 13). Also not pictured was our Flower girl Jims niece Kendra.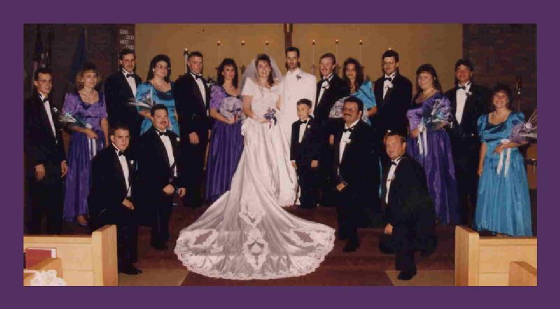 Wedding Party from Left to right standing.....
Rob, Marnie, Tony, Andrea (Onnie) Dave, Shelly, Heather, Jim, Jason, Danielle, Dan, Ginger, Dan, Jennifer. Frankie is the little man in front. Kneeling are Derek, Mike, Terry, and Kevin.