Samantha Alexis Willnow


Born August 19th, 1998

7lbs. 20 1/2" long Born at 3:45 p.m.


Sami is our first child born to this earth!! She was a very colicky baby for the first 6 months, everyone who knew us always laughed because I had to dance with her day and night. Sami had alot of ear infections her first year of life and was very under weight. When she was 5 1/2 she had her first set of tubes, they lasted until she was 6 and 2 months and the right one came out and got stuck in wax in her ear canal causing hearing problems. Her Dr. removed the right one and her ear was fine, the left one stayed inplace. He also removed her tonsils, they were bigger then golf balls, and burned her adnoids out. Since she is a bleeder they could not be cut out. Now Sami seems to be adapting well, we did learn after her surgery that she has delayed hearing. Lips don't line up with sound. It caused alot of problems for her woth her teacher in Kindergarten, she wasn'r patient enough. Now in first grade she seems to Love her teacher and has all new kids in her classroom with her. I mentor 4 first grade students 2 days a week in the mornings, I figure I would want someone to help Sami so I will help someone elses children. Sami and her blue eyes, blonde hair, and tall slender build are already turning heads. She is only 7 and my baby, NO BOYS ALLOWED for at least 11 years LOL.

Sami almost 2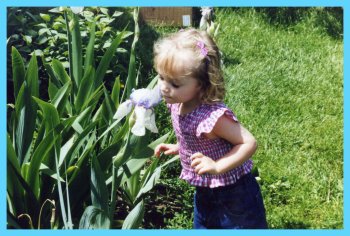 Smellin flowers at Grammy's house
Sami is in the first grade at Madison School District. Her teacher is Mrs. Newcomb. She is learning to read and become a better writer. She has already made alot of new friends, not to mention 'boy'friends.

September 2005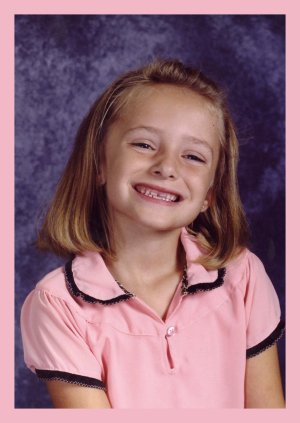 Sami in 1st grade Mrs. Newcombs class
Sami celebrated her Birthday at Nanie and Papies on August 28th, 2005. We are now planning her Birthday party with Daddies family and her party with her friends at Build-A-Bear. Sami has a hard time figuring out why she won't be 8 at her next party.